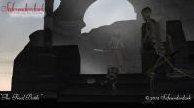 Had a rough time and not able to express myself because of technical problems.
We added 8 GB memory to my new system and this just might do the trick, (for now).
Not all problems are solved yet, but I'm back with a new Image in the wallpaper section: 'The Final Battle',
hope you like it.